Your comfort is the most important part of choosing where you or your loved one should live. Assisted Living and Memory Care ensure you have everything you need to feel right at home.
Moving is a difficult decision, and there are a lot of complex feelings involved in choosing a community that is right for you or your loved one. Assisted Living and Memory Care both offer beautiful living spaces with a range of amenities to serve your needs.
You can maintain your comfort and independence by choosing the best lifestyle option for you or your loved one.
Making the Most of Your Independence
Assisted Living communities enhance your independence by taking care of the small things, so you don't have to.
Assisted Living includes 3 chef-prepared meals every day, weekly housekeeping, optional laundry services, 24-hour onsite staff, and health and wellness programs just for you.
Beautiful apartments and a vibrant community will make you are comfortable while ensuring each of your individual needs are met.
Different apartment sizes are available to suit your lifestyle. Studio, 1-bedroom, and 2-bedroom options are available. Washers & dryers are included in 1 and 2 bedroom apartments. You enjoy a full kitchen, controlled-access entry system, daily check-in programs, an emergency response system, and more.
In the community, enjoy restaurant style dining, a fitness room, a salon, convenient parking, a beautiful courtyard, and a relaxing fireside lounge.
Is Assisted Living Right For You?
Assisted Living delivers comforts and conveniences for those who just need a little extra help.
Consider Assisted Living if You Are:
Starting to have trouble moving around your house by yourself
Having difficulties maintaining personal hygiene
Finding it harder to cook meals or go grocery shopping
Finding daily housework and chores tiring
Occasionally having trouble remembering items and events
Finding it challenging to manage medications and healthcare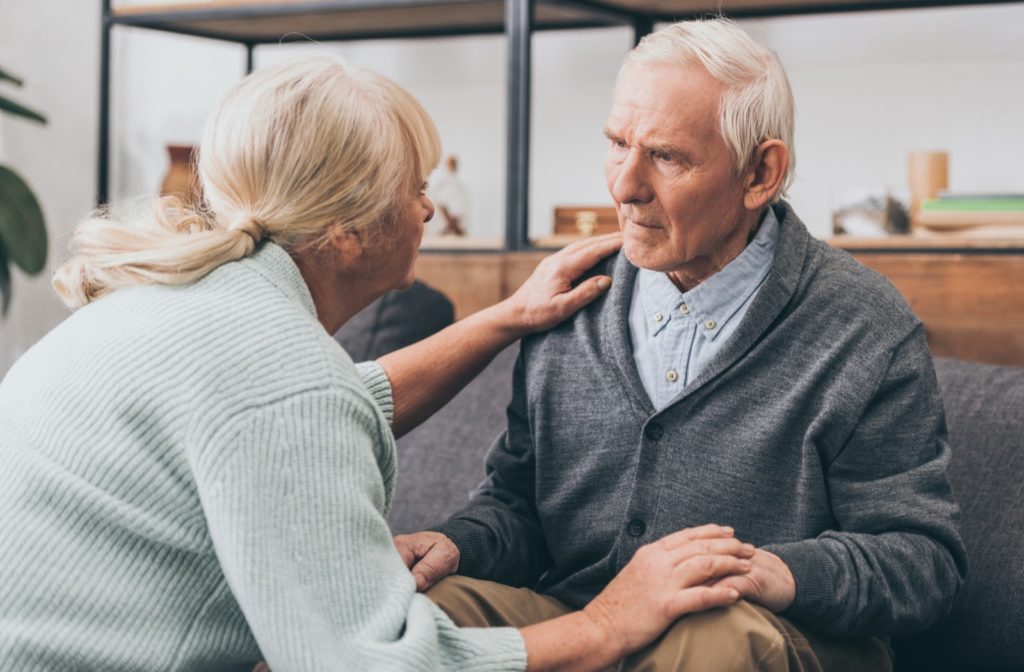 Get Extra Assistance With Memory Care
Memory Care services are designed to help residents live life to their fullest without worrying about demanding day-to-day tasks. Person-centered care focuses on those with cognitive memory impairments like Alzheimer's or dementia.
You can expect similar services to other lifestyle living, with enhanced safety and assistance.
Extra features may include:
Guidance and mobility assistance
Regularly scheduled care
Spacious walkways and hallways
Safe & secure recreation spaces
A grand bath with a whirlpool spa
Programs and activities for everyone
Walk-in shower and nonslip flooring
Heat lamps with timers, and more
A strong community helps to support someone living with dementia or Alzheimer's. Studies have shown that leading an active lifestyle can help slow progression and help prevent memory loss.
Is Memory Care Right For You?
Alzheimer's and dementia impact memory, thinking, and behavior, and can affect daily tasks. If you think you or your loved one could use extra assistance and enhanced safety, Memory Care is available.
As we age, it can become harder to remember information and events.
Cognitive impairment can begin as early as 65 years old, and sometimes even earlier. As we age, the more likely we are to develop dementia or Alzheimer's. The most common early symptom of Alzheimer's is difficulty remembering newly learned information.
Most people will eventually notice a change in their ability to remember certain things and events.
Serious memory loss can lead to symptoms like…
Disorientation and confusion
Mood and behavior changes
Confusion about events, times, and places
Suspicions about family, friends, and caregivers
Severe memory loss may lead to difficulty speaking, swallowing, and walking.
Community living can support physical and mental health, eating habits, and can help create new social connections.
Memory Care offers enhanced features and highly-trained staff who specialize in helping you or your loved one with dressing, bathing, personal hygiene & toileting, medication assistance, transferring assistance, eating, and more.
Memory Care Might be Best For Those Who…
Have been diagnosed with dementia or Alzheimer's
Require extra care to complete daily tasks
Feel disoriented or unsure of surroundings
Have difficulty remembering events, times, and places
Need a living space to develop with their changes
Need person-centered support and highly-trained staff
To help us understand the level of care required for each of our Memory Care residents, we recommend that potential residents and their families speak to our registered nurse about the level of care needed.
Making Your Decision
Both Assisted Living and Memory Care provide comfort and independence while taking care of the person's individual needs. Your decision rests completely on the amount of care you or your loved one will require.
Activities can help keep the mind active, which is why Hamilton House offers so many events and amenities to our residents. We provide the opportunity to engage in meaningful activities with other members of the community.